December is sucky in general because of the weather and nostalgia and because it seems to come around so much quicker than it used to.
But I had an unsucky week. This week was filled with youth and passion and swifts and lunches and red wine and a pink latex dress and a purple rubber ducky and a snowman and cowboy boots among other things.
Three days of events around and including LeWeb, Europe's largest tech conference, which I've had a press pass to for three years running since I write about the Internet for tech blogs in the US. I look forward to it all year, as much as I ever did to Christmas as a kid. The conference is an orgiastic encounter of curious and creative minds, and basking in the youthful idealism and optimism and energy of startup founders who want to create some kind of beauty is as good as sunbathing, but without the risk of skin cancer. (The Internet is the fountain of youth, folks.) Here's Olivier Desmoulin of SuperMarmite, a site that hooks people up with home-cooked meals, one of three winners of the startup competition this year.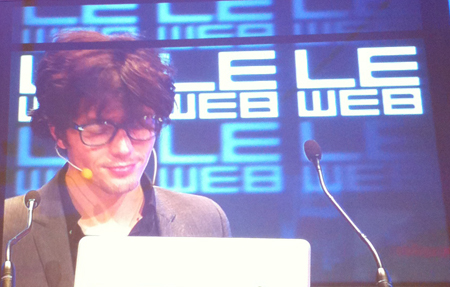 I came home with my favorite piece of conference swag ever. Did Yahoo! know before coming to Paris that French designer Sonia Rykiel makes a rubber ducky vibrator? If they didn't, they found out soon enough. The first thing my French friend Myriam asked the Yahoo rep hosting the Official Blogger lounge was if it vibrated… I took one for my step-daughter (14) and one for me. (It only squeaks, by the way.)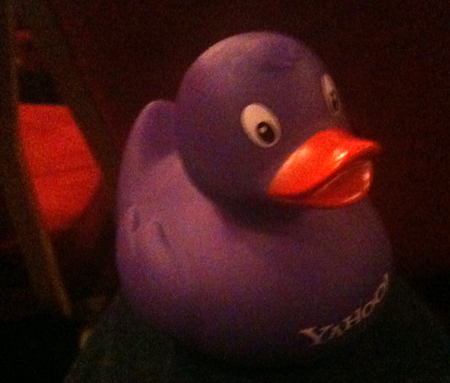 Alas, the orgy ended and regular life resumed. Dog walking in winter is no fun, except when it is. Two days after the huge Paris snowstorm that made international news, Wiley spied a snowman. He gave him a wide berth and slowly circled in close enough to sniff his face, which he did for a long time, because, of course, the sniffing provided no insight into the nature of this creature. I just stood there enjoying the show.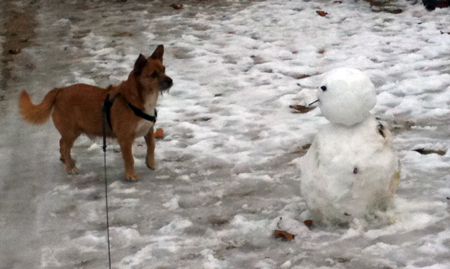 Another dog walk, this one at night in the dark. The only shop open in a tiny side street near my house looked so warm and welcoming, but that could have been the not-so-subliminal suggestion of the sign, the fact that it was in my own language, and what was inside. I felt like the little match girl standing out there looking in at the delicious boots. Of course, it wasn't the first time I'd paused before this shop, but it was the first time I'd seen it open at night. In fact, I just discovered yesterday that Paris is killing my red cowboy boots, the ones I thought would last forever (and would have in California). The leather on the vamp is cracked through from the wetness and probably nasty chemicals in the rainwater. I was obviously not diligent enough about my mink oiling… This is Go West Boots, in the 5th. Let me know if you want the address (you can't find it on their site).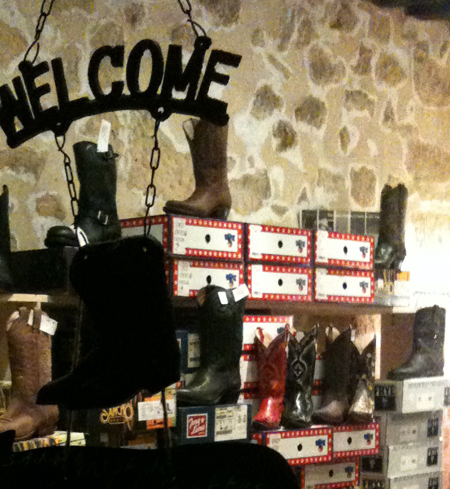 I arranged to meet an online acquaintance, a blogger whose voice and views I enjoy, who was in Paris for the week, not for LeWeb (though she's covered it before), but for LeVin, a big wine conference. I don't often bring people from my online life into my real life, but my instincts were good, as usual. She's originally from South Africa, lives in Italy, is my age, and (also) has a lust for life. We connected on many levels and talked about things that, in the old days, you wouldn't get to till some time had passed but, for better or worse, our ways of being have changed because the Internet has broken down so many barriers. We ate lunch, drank wine, watched swifts flying frenetically around outside her window, and went and tried on wild clothes at Phyléa for dessert.