The weather in Paris has been depressing this spring. But it was the perfect backdrop for the depressing French presidential campaign, which was harsh and ugly, with the extreme right gaining ground and the Greens written off completely (less than 3% of the vote). Sigh.
So I have a suggestion for you. To lift your spirits, celebrate Mother's Day, and give your kids the priceless, lasting gift of eco-consciousness and civic responsibility…
Why not take a trip to the Zoo La Boissière du Doré for a special event to raise awareness about orphaned orangutans? The zoo is right outside of Nantes. (OK, so it's a four-hour drive from Paris, but I'm from California, so… road trip! It's only about two hours to Nantes by train.)
Need a moment to think about it?
How about this moment? This is one of the orphans at the Nyaru Menteng reintroduction center. He didn't want to go back to the center for his nap after "forest school."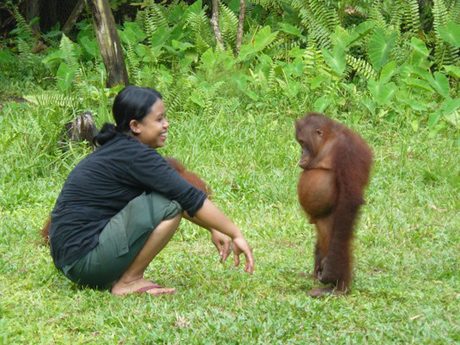 (Image copyright Orangutan Outreach! Click the picture to go to their Pinterest page and see a bigger version.)
Orangutan Outreach helps support the Nyaru Menteng center (managed by the Borneo Orangutan Survival Foundation), where our little buddy above lives, and the Ketapang Rescue Center (managed by International Animal Rescue). If you're still not convinced, watch the Orangutan Outreach mom and baby orangutan video that melted our hearts.
Missing Orangutan Mothers (MOM)
This year, on Mother's Day (May 13th), the Zoo La Boissière du Doré is hosting the annual Orangutan Outreach MOM (Missing Orangutan Mothers) event, which raises awareness about the plight of orphaned orangutans:
Every year on Mothers Day, Orangutan Outreach celebrates orangutan mothers in zoos around the world. We take this special day to bring attention to the hundreds of orphaned orangutans being cared for in rescue centers in Borneo and Sumatra.
The orangutan keeper at the zoo, Dr. Marylise Pompignac Poisson, is a child psychiatrist, psychology educator, and specialist in early psychosocial development of primates — both human and non-human.
The program she has put together for the MOM event includes:
a talk about orangutans during which she will also discuss findings of her research on the importance of early interaction in the cognitive and emotional development of infant orangutans,
a fact sheet/quiz for visitors,
coloring pages for the little ones.
She will be available to chat with visitors and answer questions, her book Les Orangs-outangs de la Boissière nous livrent leurs secrets will be available to buy, and you'll be able to make donations on the spot. All proceeds will go to the EAZA Southeast Asia campaign (see below).
By now you should be highly motivated to go to the MOM event at the zoo! (But if you can't, scroll past the details for other ways to help.)
Event details
Date: May 13
Time: 13:00
Location: the orangutan enclosure, of course.
Hotels near the zoo
Map of the zoo (click for a downloadable PDF):
The orangutans desperately need our help
The MOM event is being co-sponsored by the nonprofit org Le Jardin d'Athéna, founded and run by Dr. Pompignac Poisson, and EAZA (European Association of Zoos and Aquaria).
This year, EAZA is running a campaign to support endangered animals in Southeast Asia. Large animals in this region are in serious danger of being completely wiped out in the near future (the Sumatran orangutan is critically endangered, the Bornean orangutan is endangered). This is largely because their rainforest habitat is being razed to make room for palm oil plantations. It's all about greed.
For professionals
If you or anyone you know are a pediatric, veterinary, or other professional interested in early primate development, Dr. Pompignac Poisson is offering a training program on the topic: Stage d'observation en primatologie.
Dr. Pompignac Poisson is also a member of the Société Française pour l'Etude du Comportement Animal, and will be presenting her research at their meeting May 9-11.