Andy Warhol said we all get 15 minutes of fame and I just used up about five of mine. If being on an 11-minute show about blogging on the French equivalent of C-SPAN counts as fame, that is.
Caroline Deschamps, the elfin, yet sophisticated MC of Parlons blogs ! on Public Sénat contacted me through frogblog because she was doing a show on the US election and wanted to interview an American expat blogger in Paris. When she found out I was part of a blogging couple, she decided to do a dual interview.
Actually, there is a lot of interesting political programming on Public Sénat in addition to the government-in-action stuff, and among the programs is a show about blogging. It's not necessarily a topic that translates well to the TV screen, but you'd be amazed at what Caroline does with it.
Caroline showed up a few days later with her friendly and efficient (qualities an American appreciates) crew: Valérie (sound), and Olivier and Michel (cameramen). They proceeded to invade our bedroom with spotlights and cameras and Caroline did her thing.
She stole my comfy chair, but I forgive her because she was truly lovely and she did put me on TV, after all.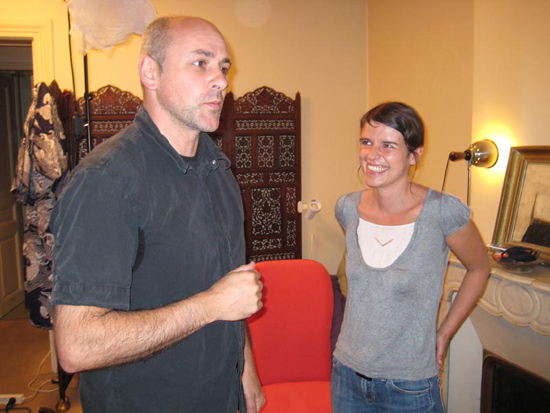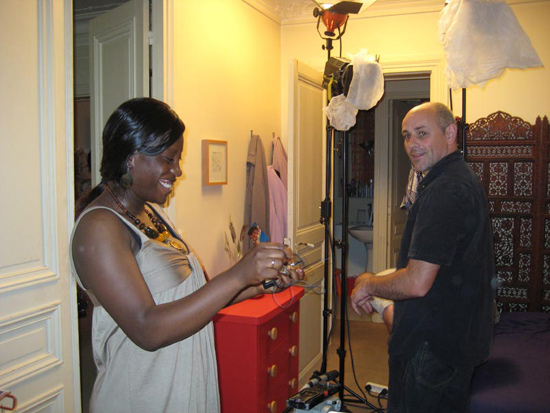 I was less nervous than I thought I would be (because I convinced myself in advance that only three people would be watching the show), but my French was still pretty abysmal. The editing is great, though, and Caroline picked my best one-liners (as Vincent pointed out) and allowed Vincent to fill in with his eloquent insights (see my previous post).
Of course, as soon as they left, I thought of a million things I would have liked to have said, but that's what this blog is for, isn't it? And I still have 10 minutes of fame left, right? I'll have to use them wisely.
One of my comments that made it into the show was something I'd written on one of my posts; that if Obama is elected, the US will have a more refined president than France does for the first time. (I'll probably be deported for that.)
Best of all, Vincent's Geeks in Love got plenty of screen time. And they were naturals. Very telegenic. They should have their own show if you ask me.
Here, for your viewing pleasure are my five minutes of fame, which start at about the six-minute mark.
Merci encore une fois, Caroline, Valérie, Michel et Olivier !