Audible sigh.
When Vincent and I were discussing* getting a dog, we hit a major culture bump. Evidently dog owners here in France are overwhelmingly members of the conservative and well-to-do bourgeoisie, something that an ascetic bohemian political lefty like Vincent finds abhorrent. As I understand it, if you have a dog here, you're basically perceived as flipping off everybody who's not rich.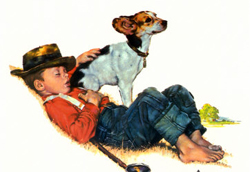 I had to explain to him that dog ownership didn't have that kind of baggage where I come from, that it's as American as apple pie, Norman Rockwell, and so on. I can't help it, I'm the product of my culture. I never cried harder than when I finished Where the Red Fern Grows. I found out at one point (completely by accident) that 44% of Americans own dogs. See Vincent? It's normal!
Now how did I miss that red flag? I should have listened to myself! Since when do I point to America as a model of proper behavior? I was not being logical. I was carried away by my save-the-little-doggy crusade. One of these days, like many other American habits, the pet habit is going to have to go…
But the deed is done. Wiley is alive and eating 150 grams of kibble a day (I have no idea what that is in dollars). I throw several plastic bags of poo in the trash every day. Wiley is destroying the planet and he doesn't even know it, poor thing.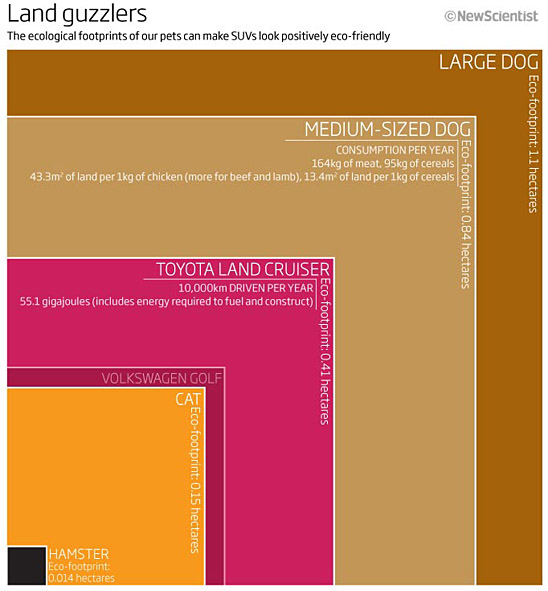 In this New Scientist article, you can read all about Fido's carbon footprint and weep. It's a good article; eye opening. I question some of the stats, however. My assumption has always been that pet food is mostly made of by-products of the meat produced for humans, which means there's overlap. So if 50% of a cow goes to you and 50% goes to Fido, you can't count that cow's carbon footprint twice… At least not till it branches off into pet food production. Anyway, when humans get a clue, or – much more likely – are forced by global food shortages to stop eating meat and grow soybeans, I imagine the pet problem will take care of itself, like all the rest. (Added November 22: The article linked to above is bullshit. Thanks David Horton!! Wiley loves you! Me too. I immediately gave him a treat and told him it was from Uncle David.)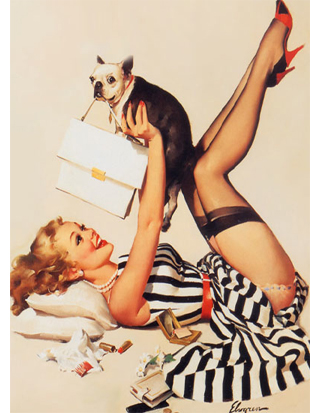 But since I don't own a car, clothes dryer, dishwasher, or even a garbage disposal… Since I haven't eaten red meat in nearly 28 years, I'll let Wiley walk in my footprint for the short time he's here. And at least he's a shelter mutt and I didn't contribute to the purebred dog racket.
But Wiley will be my last dog.
Then I'll have to feed my fix by adding to my collection of vintage ceramic poodle tchotchkes (Wouldn't that be a great name for a poodle?). I already have a planter, a pepper shaker, a knife rest, and an egg cup, all from the 40s and 50s. I bought the first one 23 years ago and the last one two weeks ago (I'm picky). And maybe I'll put up vintage posters to remind me of the good old days, when I was a girl and girls could be girls and they could have dogs.
Wiley has a Twitter account. If your dogs (or cats; Wiley's open minded) are the Internet types, send them over to join the conversation: ducks, peacocks, spaghetti, duels… He has two dog friends at this point, Lily (a Westie) and Dooley (a Corgi mutt). He also follows a famous cat who has not deigned to follow him back.
Yes, I know it's absurd. But so is everything.
*P: I want a dog.
V: I don't want a dog.
P: I want a dog.
V: I don't want a dog.
P: I want a dog.
V: I don't want a dog.
P: I want a dog.
V: I don't want a dog.
…