So I was on the rue Saint Paul in the Marais yesterday, a trip to Thanksgiving to get French's mustard and PopTarts (les PopTarts de Proust, OK??). Also came home with Vlasic Kosher Dills (cornichons don't cut it; no dill) and a can of vegetarian refried beans…
Dragged Claire along with me, and she was urging me to get something "truly atrocious." There's atrocious aplenty at the American grocery stores here; that semi-liquid marshmallow stuff in a jar, for example, and StoveTop stuffing (which I've bought twice in 5+ years, that's right, deal with it). I assured her PopTarts were quite atrocious enough and sent her home with two of them. I await her assessment.
(Aside: They have Celestial Seasonings tea there, including Red Zinger in boxes of 10 teabags for 3.75€. You can get the same thing online for 1.99€/box direct from T-France.com, run by Harold, who is a great guy. Please support him so I can keep getting mass quantities of Red Zinger, without which I cannot survive winter in Paris.)
So we leave Thanksgiving in search of a café with a heated terrace, but just a couple doors down we stop short, drawn like magpies to a shop window bursting with bright cheery girliness in the form of funky, colorful leather clogs, bags and other goodies. I'm so starved for color in Paris, displays like this one make my dopamine or endorphins or serotonin or all of the above spike big time.

So of course we go in. Parisians tend to turn up their noses at clogs, BTW. Their loss. But Claire is not one of those Parisians. I've never stopped wearing clogs since the 70s, and Claire and I are from the same generation, so we enjoyed sharing the blast-from-the-past moment. She likes dainty florals à la Liberty of London, while I like loud 70s kitsch and the retro-collagey thing, all of which, as you see, they do: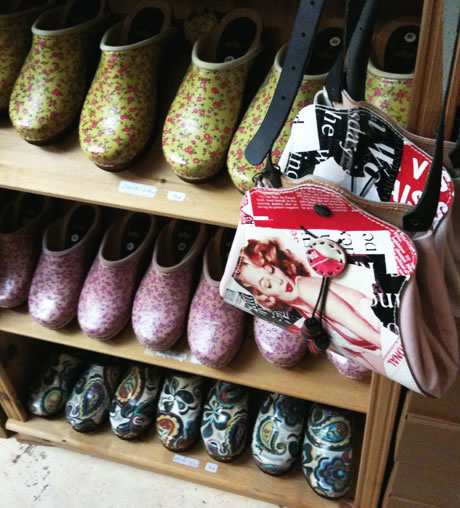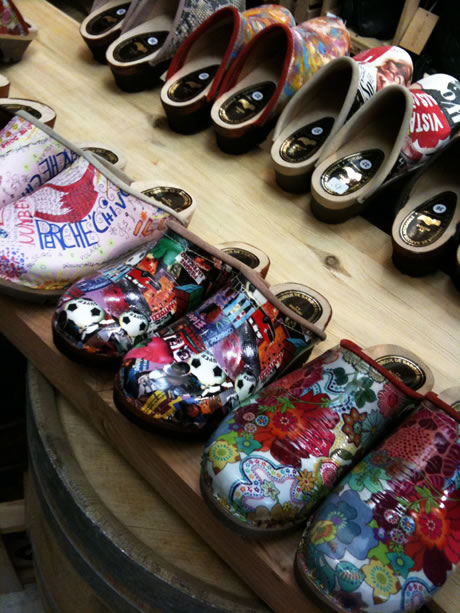 The objects themselves were delightful, but the story gets even better. You see, they're handmade by real, live French craftsmen! The shop, which only opened in Paris three months ago, is run by the soft-spoken young Benjamin Renoux (picture below), who is learning the leather/cobbler trade from his father. They have two other shops, in Honfleur and Saint-Malo (both big tourist destinations). Lucky for you, Cuir du Voyageur also sells its delicious products through its website.
True artisans are getting harder and harder to find in France because, of course, they have a tough time competing with the cheap, mass-produced crap imported from other countries (no need to name names).
So this shop is a true gem. Support them if you can!
I'm going to get some clogs (only 79€ for handmade leather shoes, folks, I mean come on…). Probably the ones at the top of the page. Or maybe a pair with the pattern on the bag (red, white, black, pinup, etc.). Or maybe I'll just get the bag… Or the darker floral clogs in the bottom right corner of the picture just above. Or the red, red rose clogs I saw in the window… (You can see why I did not leave the shop with an actual pair of clogs.) And I'm also going to offer to translate their site into English pro bono.
By all means stop by and see all the other things they have, like the barrettes (you know, the kind with the stick through two holes, straight outta the 70s,) and the irresistible little leather pouches…
Cuir du Voyageur
32, rue Saint Paul
75004 Paris
www.sabots-cuirduvoyageur.com
Cuir du Voyageur Facebook page