After a while, battered by the selfishness, cynicism and cruelty of our world, you start to feel the life being sucked out of you.
Then you see something of such surpassing beauty that you are restored, at least for a moment. (Best to watch without sound so that news reporter's annoying voice doesn't spoil it for you.) (Thank you, Vincent, for this bit of beauty.)
The woman in the video found the lion near death and somehow got him home, where she nursed him back to health. When he was better, she called a zoo and they came and got him. This is what happened when she went to see him there for the first time.
Doesn't this make you want to do something for the magnificent animals of our planet? You will probably never get a chance to personally save a great, wild creature, but you can adopt an animal through the World Wildlife Fund right now.
I just adopted (at least part of) a lion for less than what one of those bears in a costume would have cost me. That's impulse buying you won't have to be ashamed of.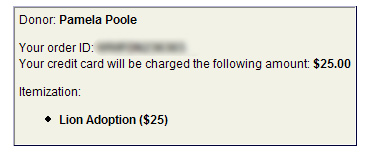 If you look around, you might find some great cats in your own back yard! My brother and sister-in-law have contributed for years to the Exotic Feline Conservation Center, known locally as The Cat House, in the Mojave Desert near where they live. They have been supporting Tran, a black leopard, since he was a cub. My sister-in-law shared her experience:
In the cat world, it's rare for males to bond with their offspring. Isaac, Tran's father, let his cubs climb all over him, chew his ear, pounce on his tail. He was the best father ever! He was separated from the family at first but threw such a fit to get to them that the workers decided to try it. Lo and behold, he had only wanted to be with his cubs! Awesome sight to see. We were immediately smitten.
My brother and I didn't grow up with cats, but now I have a lion and he and his wife have a leopard. How cool is that?