Despite my lifelong francophilia, I haven't traveled widely in France, and I don't know its regions nearly as well as I would like. Travel is just a luxury I can't afford. But I've found a site that allows you to plan real or fantasy road trips anywhere in France, without having to know anything more than the general area you want to "visit."
This is the deal. You enter a region from a drop-down list, choose a linear trip with starting and ending cities, or a circular trip within a region. You pick dates. You click a button. And YourTour presents you with a mapped route that includes sites of interest, a daily itinerary, places to stay, and the total estimated cost. Too cool for words! And you can customize it too. And they'll be adding other European countries soon. (I can't wait for Italy. My mom has gotten it into her head that she needs to do a multi-city tour of Italy in 2011…)
This is part of the first day of my two-week fantasy trip to Poitou-Charentes (Ségolène Royal's region):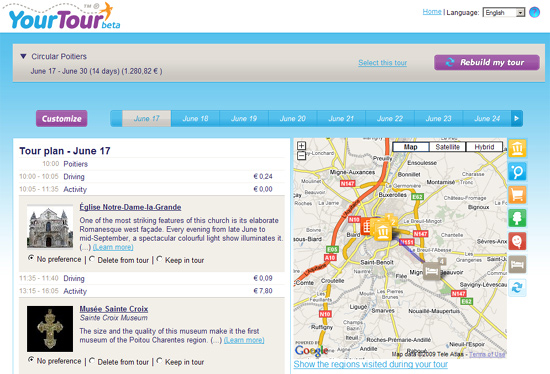 This app has great potential: teachers can use it in the classroom and have their students prepare and present reports based on their trips. Travel pros can use it as a guideline for tours they might want to offer. Regular people like you and me can fantasize to our hearts' content and learn while we're at it. I will be playing with this a lot.
Now go and visit France!