I had coffee with an artist named Matthew Rose on Sunday (actually I had an Orangina—it was really hot). It was the first time we'd met, and it came about because I tweeted a link to an exhibit poster that Matthew had made available for free download. Which I discovered because I've subscribed to one of his blogs for a few years. Which I found googling business card designers in Paris.
I love the Internet. Have I mentioned that?
Anyway, I figured the francophiles who follow Francophilia on Twitter would like it. And I liked it and wanted to share. The poster shows a number of his collages from the exhibit, many of which have a decidedly French flavor.
So one of the things we talked about was how it benefits all concerned when artists give the masses, who can't necessarily afford original works, access to their art. Matthew is a big champion of this approach, one that appeals to my SoCal hippie – Civilization 2.0 – share the love mentality (and one shared by Vincent, who makes his music available to stream on his blog and to download all over the Web, not to mention his Geeks In Love).
Our discussion covered a lot of ground, and one thing Matthew mentioned really intrigued me: the One Page Book concept (les petits papiers in French). He said it's something kids do in school, but I never did… I don't know who started it, but it seems to have caught on, and artists from all over have participated, creating free artwork that can be downloaded and turned into little books.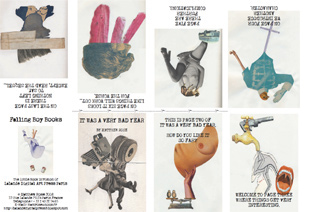 And you can do the same. All you need is one piece of paper and some inspiration.
Click the image to get to Matthew's It Was a Very Bad Year, the shortest—and sexiest—user manual I've ever seen. And it also happens to be a work of art.
So of course the next day, I decided to create my own One Page Book, with one of my favorite poems of those I've written in recent years.
<RANT> I got an e-mail from Lulu today congratulating me because my poetry book was "selected" to be sold on Amazon Marketplace. Which is, of course, a bunch of bullshit. It's just a business move on the part of Lulu, and my book will be as much of a needle in a haystack there as it is on Lulu, more probably, even though they tell me now I'll have more search engine visibility. But it doesn't matter anyway. The only reason I made it in the first place was to give it to my mom for Christmas. Plus Amazon will be charging 30% more for the book than Lulu, and I don't get a penny of that. What a racket. Boo. Hiss. So if, by chance, you want a copy, get it from Lulu. It's selected poems and photos from the turbulent year or so after my divorce, full of despair, flowers, sex and, finally, love. The usual. </RANT>
[Lulu changed their mind. Got this mass e-mail on June 5th: "Based on your feedback and after reading the policies of several marketplaces, we've decided to match your titles listing price on Lulu with the listing price on Amazon by removing the 30% markup. ]
So here, ladies and gentlemen, is my first attempt at a One Page Book using a poem from the Love section of the aforementioned book: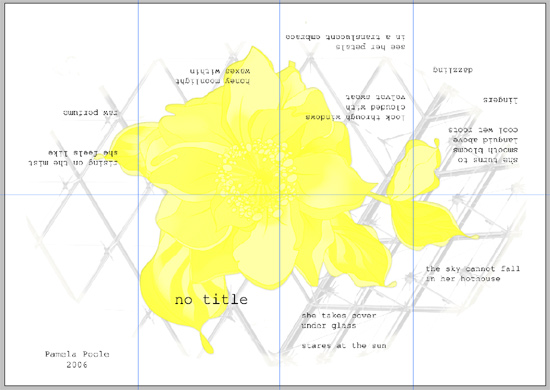 Click the image for the full size PDF (without the lines). It's in A4 format, so it won't exactly work on 8.5 x 11. Folding and cutting tutorial here. You can see what a number of artists have done with their One Page Books here and here.
Use it as an art medium. Make a party invitation or a get well card. A great rainy day project with the kids. Use crayons or Photoshop. Print it on inkjet fabric, quilt it, sew the edges together with embroidery thread or ribbon, and make a cloth keepsake gift for baby or grandma. I was thinking of maybe making some shabby chic Francophilia brochures. Unlimited potential for fun, creativity, and therapy.
If you make a One Page Book, upload the PDF and send me the link and I'll link to it from this post!