I see things here in France all the time that would never fly back in the States. I remember when I was here in 2002 with Trevor and there was a behind-the-scenes documentary on the Moulin Rouge on one of the state-owned TV stations. (That means taxpayer money and government approval.) Guess what? Moulin Rouge showgirls don't wear any more clothing backstage than they do on stage. Needless to say, Trev, then 17, enjoyed the show. Oh, and it was primetime.
In the States we have our TV rating system: M for mature and I forget what else. Never paid much attention. The Frogs have a system too. They recommended that no one under 10 should see the HBO miniseries Rome. Ten! Did you see it? Do you remember the gift Attia sent to Savilla (the slave wrapped up like a present in a costume that accentuated his…attributes)? As uninhibited as I am, even I was a little shocked by that. The rating, not the show, that is.
Vincent often talks about the French and "the pleasure principle." You can tell that pleasure is important to them not only by their healthy approach to sexuality, but also by their relaxed attitudes towards what uptight Merkins consider vices, their appreciation for good food, the way they maintain a real work/life balance, and more. One thing I've always said about the French is that they know how to live.
I saw a great car ad this week in the Nouvel Observateur, a highbrow weekly news and culture magazine. It's for the Renault Scenic. A minivan. The ad puts French romance and passion in the context of the family. And why not? Unfortunately, I seriously doubt that a charming ad like this would appear in the States. This one won't. A friend informed me that Renaults haven't been sold in the US since 1987. Look at what you're missing!
This is the online version of the ad, which differs slightly from the print version in the magazine: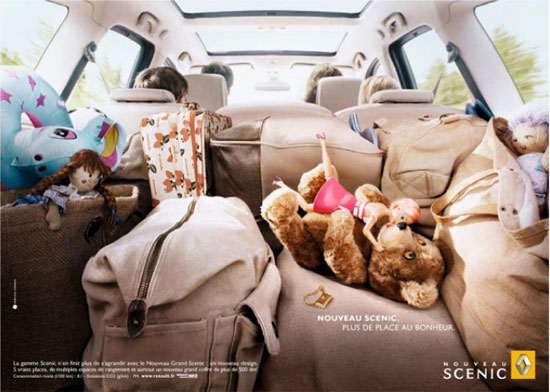 Nice little family riding along. Meanwhile, Barbie and her teddy bear are making out on the back seat, Barbie's lamé purse tossed to the side. The little girl and grandma rag dolls are looking on, smiling. Best of all, the grandma doll is winking!
Here's the print ad: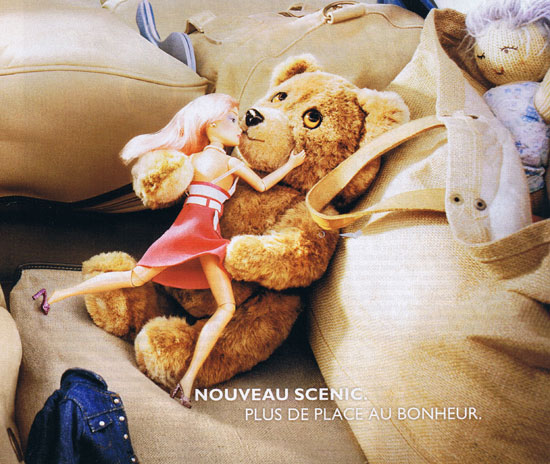 This time, it's Barbie's denim jacket that's tossed aside, her shoulder strap has slipped, she's losing one of her shoes, and teddy's lifting her skirt.
The slogan "Plus de place au bonheur" means "More room for happiness." That's what I'm talking about!