The French call a piece of candy a bonbon. It means "good good."
Among the things in life that are good good (and all of which I did yesterday):
an entire day with a friend who's in Paris for the first time since you moved there
a lunch of hot curry, cool rice pudding with cardamom, and hot espresso
an after-lunch stroll through seedy Pigalle
wild raspberry tea in a cozy Paris apartment on a cold, gray afternoon
delicious conversation
exquisite chocolate

bonbons
Not just any old bonbons either. Yesterday, my friend turned me on to a French national treasure—two, in fact: À l'étoile d'or, a magical chocolaterie-confiserie, and its proprietress, Madame Denise Acabo, a wacky little old lady who dresses like a French school girl (and has since she was a French schoolgirl).
When we got there, she was behind the register literally slurping up chocolate pudding with sprinkles on top and enjoying the hell out of it. She told us she cannot go a day without chocolate.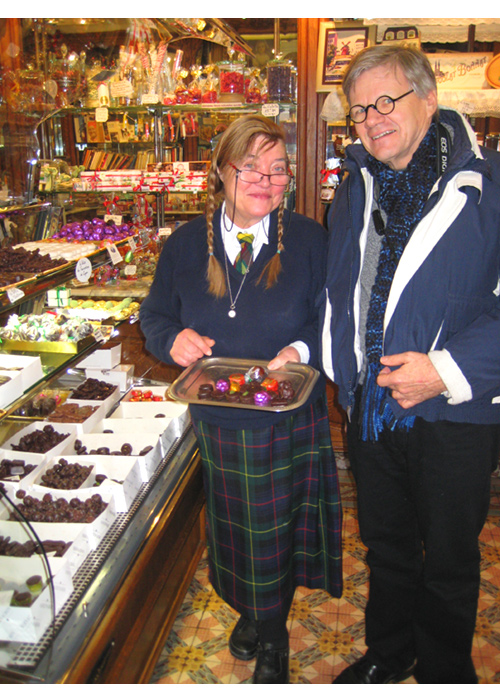 In this display case are handmade, artisanal chocolates from all over France. Madame Acabo gave us a guided tour of the case, effusively providing colorful commentary on the tiny works of edible art as she hand picked a selection for us.
The rest of the shop contains more of the same plus chocolate in many forms from all over the world.
At that moment, I wanted to recant all my rants about having to go to 25 stores to make a single meal in a day. I was suffused with gratitude that France does so much to protect small businesses (but I could have just been high on chocolate fumes).
I'm just glad Paris doesn't look like America, with its rows of boxes distinguishable only by the vulgar logos of one national chain after another…
Experience a piece of the real Paris:
À l'étoile d'or
30 rue Pierre Fontaine
Paris, 9th