There I was, just tweeting my joy about Snapguide, which Vincent pointed out to me yesterday, wondering "out loud" what I might make a guide about, deciding, finally, it would have to be my son's favorite holiday dessert, a recipe nobody I've ever met has ever heard of: my grandmother's sour cream raisin pie.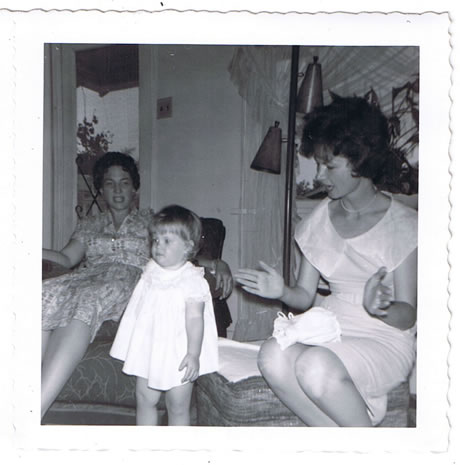 GramKathryn on the left, me, mom. As you can see, I grew up during Mad Men. The white trash, west coast version. That'll be coming out soon, I'm sure. I seem to be doing a lot of nostalgia posts these days. I must be getting old. Or maybe I'm unconsciously mitigating the future shock.
Anyway. I figured if the tweet got a response, it would be about the app, given the geekish people who follow that account. I was sure the recipe, if it was noticed at all, would elicit "eeeews" as usual. It's just not something you can understand till you've tried it.
But then Jeremy Meyers (a total stranger) asked for the recipe! He was right not to wait for my Snapguide. It could be a year before I get to it, if ever.
I thought I remembered putting it on this blog, so I looked but it wasn't here. Then I dug through my old Christmas letters (the ones I used to send before I started doing an annual update online), and there it was, in 1997. (Fresh out of grad school. Newly married to my last husband. A kid in junior high. Somebody else's life entirely. Totally freaky.)
My GramKathryn will be 92 in May. She's outlived two sons (one my father) and even a grandkid. She's a kick in the pants. Here's her recipe, in her handwriting (transcription below). I must have been carrying this around for at least 20 years…
Hope you like it, Jeremy.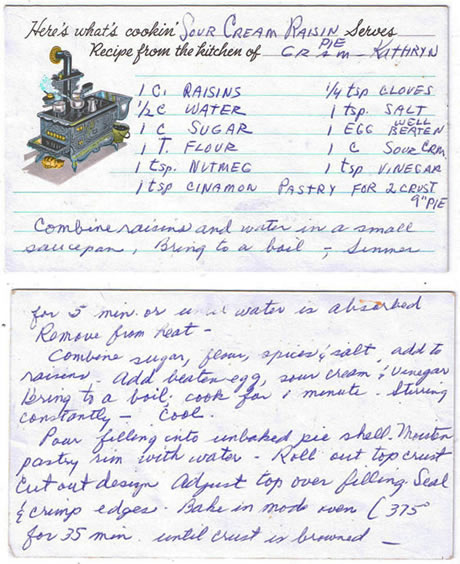 1 c raisins
½ c water
1 c sugar
1 T flour
1 t ground nutmeg
1 t cinnamon
¼ t ground cloves
1 t salt
1 egg (well beaten)
1 c sour cream
1 t apple cider vinegar
pastry for 2-crust 9" pie
Combine raisins and water in a medium saucepan. Bring to a boil. Simmer partially covered (5 or 10 min) until water is absorbed. Remove from heat. In a medium mixing bowl, combine sugar, flour, spices, and salt. Add to raisins and stir. Add beaten egg, sour cream, and vinegar. Bring to a boil and cook for 1 minute, stirring constantly. Cool. Pour filling into unbaked pie shell. Moisten pastry rim with water.  Roll out top crust, cut out design, and adjust top over filling. Seal and crimp edges. Bake at 375° for 35 minutes until crust is golden brown.
Notes: The plumper the raisins get, the better the pie. For some time, I've been putting them in the water in a microwave and nuking them for a minute or so, then letting them sit, then nuking them… Lastly, the pie crust shouldn't be sweetened. The pie's really sweet (and tangy). Very nice served with unsweetened, freshly whipped cream.
Special bonus! The turkey I cut into the top crust at Thanksgiving.