I told my brother we were going to the middle of rural Normandy for 10 days and that we planned to do nothing but read. He laughed! I guess that's not his idea of a good vacation. Then we had a conversation about how his vacations are all about entertaining the kids. I sympathized and told him it wouldn't always be that way.
Sitting around in chaises longues outside a cottage in the sticks (even French sticks) may not be everybody's idea of a perfect vacation. But it worked for us. We didn't only read, but we didn't do anything mentally or physically stressful (that's the point, right?), which is not to say we did nothing strenuous. A novel by F. Scott Fitzgerald is not something you just read, after all. It'll take your breath away and leave you dizzy. Like exercise, but entertaining, edifying, elevating…
So what did I do on my summer vacation besides read?
Saw a 13th-century church in the village of Rugles on a gray (but not cold) day. You get those in Normandy, in the summer.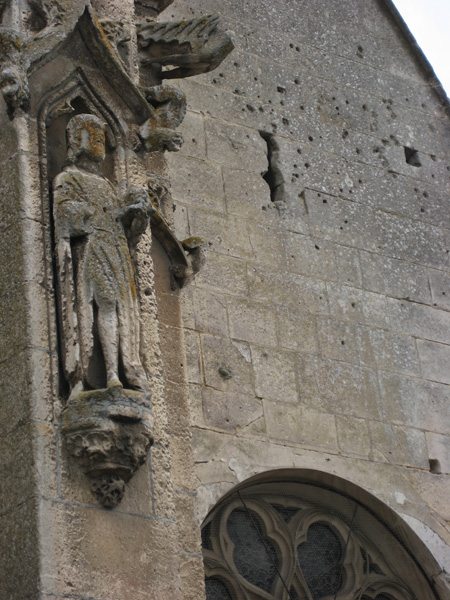 Contemplated seedpods that fascinated me (their wings) and delighted me (their color scheme, which I promptly decided I would do my dream living room in).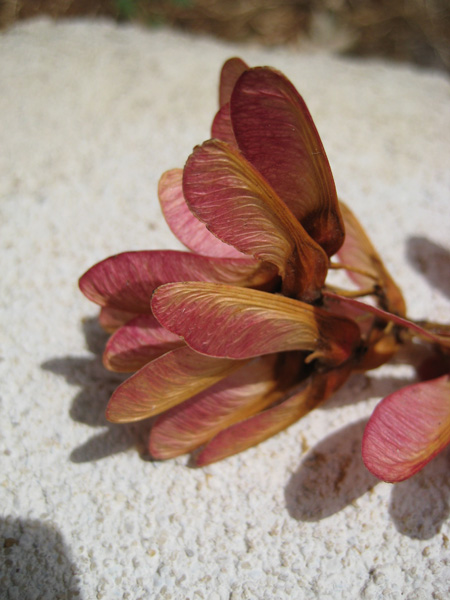 And in this little field, I imagined a tiny house next to this solitary tree, which looks as if it's had some hard knocks in its short life, to hold that living room. The barbed wire will keep all the people away. Oh! Right! There are no people…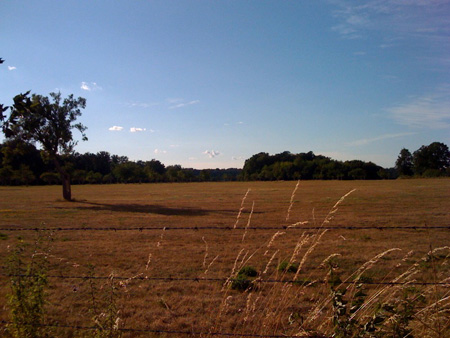 Pitted cherries. A tree planted by Vincent's dad about 20 years ago bore fruit for the first time this year. The best cherries I've ever had in my life, easily 20 years' worth of stockpiled cherry flavor in 'em. Can't you see it? We made a cobbler. There are no words.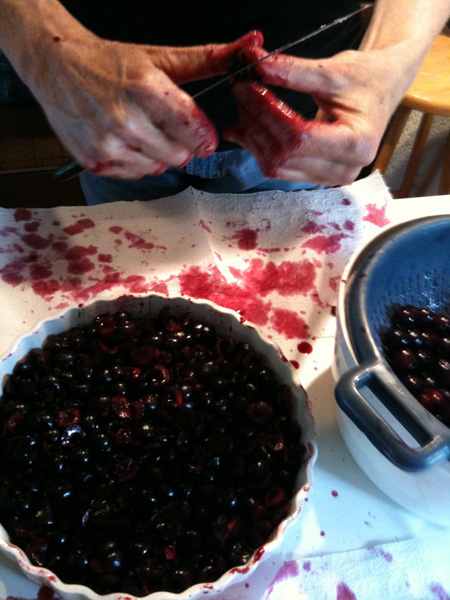 Geek tip: If you have an image whose colors make you salivate, and if you have Photoshop, you can break the image down into a color palette you can use for web design, or home décor, or putting an outfit together, or whatever! Choose the Filter menu, then Pixelate, then Mosaic. Make the squares big till you get a workable palette.
Welcome to my living room in the little house in the little field by the little tree. This is all I have so far, but it'll do. I don't really need much.