All I wanted was a sturdy bag for my new laptop that wasn't boring or ugly or corporate or outrageously priced. Actually, that's not entirely true. I wanted one that was all that plus sexy and a little girly. Something with personality. I am a lipstick geek, after all. I specifically needed something that would protect my laptop when I travel to California, which I'm doing in less than two weeks.
My 17″ Dell started to die last fall. I'd had the motherboard replaced twice in its four years. And then there was the incessantly blowing fan problem that Dell "tech support" couldn't fix with all their bios updates and fan replacements. So I googled around and then had the courtesy to tell them that all you need to do is hit Fn + z to reset the thermostat on that model and instantly stop the fans from screaming. They didn't thank me.
But I digress.
I've been working on Vincent's little 13″ Macbook for months, and I finally replaced my Dell last week with a 15″ Macbook. Unfortunately, my old, beloved laptop case doesn't fit it: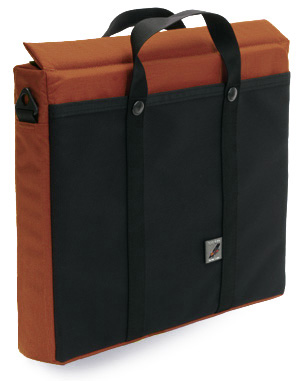 This is the "Brain Cell" by Tom Bihn, a little independent manufacturer in Seattle. But mine is "wasabi" colored.
Vincent thinks it's ugly. But there are three reasons why I loved it in addition to the color (Hello! Black is so boooring.). One, the cleaning instructions included the text below (Bush was still in office when I bought it). I'd heard about this "scandal" before I ever had a laptop and decided to support the publishers of this subversive (and francophile) laundry label as soon as I had the chance:
"NOUS SOMMES DESOLEES QUE NOTRE PRESIDENT SOIT UN IDIOT. NOUS N'AVONS PAS VOTE POUR LUI"
I also loved its minimalism. I don't need 8 million pockets. I'm a girl. I buy my purses with chargers and gadgets and power supplies in mind.
Another thing I loved was that it was hefty, hefty, hefty. Just look at this construction: hard sides, and the laptop doesn't even touch the bottom of the bag. It's suspended in a cozy hammock. This bag is downright uterine: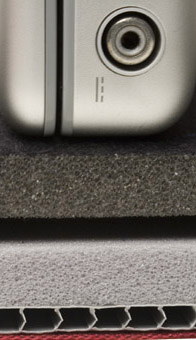 I won't even go into the patented elasticized shoulder strap that makes the laptop seem half as heavy as it is, essential when you're lugging around a 17″ Dell.
I shopped all over online, but you can't tell if something is hefty or wimpy that way. And I need hefty. I'll get to that momentarily. Saw some bags that were on the cute, hip, girly side, but ultimately resisted temptation due to the hefty/wimpy issue.
So I headed out to the FNAC Digital (one of those tech + music + video stores) and it was Welcome to Mr. Traveling Businessman Central. Gag. And none of them were nearly as hefty as my Brain Cell. There was one not black or gray or butch and fairly sturdy bag that they only had for a 13″, so like a good geekette, I took a picture of the tag with my iPhone and looked it up online when I got home. It doesn't get any bigger than 13″.
I went to the Apple site and saw some bags with potential, as I knew I would, since Apple is all about style. So I went to the Apple Store in the Louvre to meet them in person. Wimpy, wimpy, wimpy. Not a hard-sided bag among them. And the bags "for women" all looked like a handbag your grandmother would have carried in 1968 or something Ms. Lady Lawyer would use, like this one: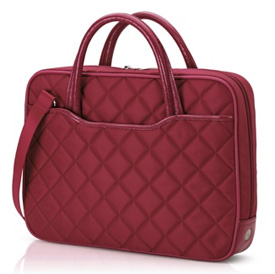 This particular bag, however, could dress up or down, and be funky or serious, depending on what you wear with it. I could have pulled it off. But this bag is about as sturdy as a lingerie pouch, too expensive, and doesn't have a decent shoulder strap. In fact, an alarming percentage of "women's" bags don't seem to have shoulder straps at all… Instead they tend to have little detachable pouchy thingies for your keys or cosmetics.
So I extrapolated from all of this that laptop bag makers are generally operating under the following assumptions:
1. There aren't enough girls with laptops to bother creating pretty/sexy/dainty/whatever bags.
2. Girls don't need sturdy laptop bags.
3. Girls don't get big laptops.
4. Girls don't need shoulder straps.
Final answer: Women computer users are not serious. This whole experience has disgusted me. Wake up people.
Why didn't I just order another Brain Cell for a 15″ you ask? Because I was afraid it wouldn't get here before I had to leave and would cost too much to ship (which wouldn't be very green either, for that matter).
On another note entirely. The shoulder straps available for laptop bags are too long. Most bag manufacturers have not taken into account the female anatomy:
What happens when girls walk? Boombadaboombadaboom… What happens when girls walk with a laptop hanging off their shoulders to their hips? The laptop bounces right along in time. Thus the need for hard sides, or shorter shoulder straps, despite the fact that I'm built more like the Pink Panther than Betty Boop.
On the way back from the Apple store I popped into the BHV, a big department store, just to see what they had. More of the same with the exception of one bag that was adequately hefty and had straps that kept the laptop from bouncing off my ass when I walked. Italian, designed for women: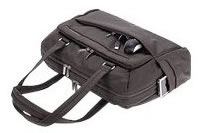 There was only one other color in the store, a burgundy red (yuck). It has a lot more pouches and pockets than I need. It's not sexy (although it looks better IRL than in this picture). But I got it.
When I got home, I went to the site of Tucano, the manufacturer. Lots of bags for women, many that are very cool, stylish and feminine, and most with straps of the right length. If you're in the market, I suggest you start there.
Leave it to the Italians to realize women have hips and appreciate style. Grazie mille!