It was a coup de foudre (love at first sight).
You know I've been pining and scheming and (online) window shopping for a dog for a long time… So I had the closest shelter (forty minutes away by train) of the Société Protectrice des Animaux bookmarked and, at moments when I was feeling particularly dog deprived and courageous at the same time, I'd pop in and see if they had my dog yet.
Last Monday, he was there.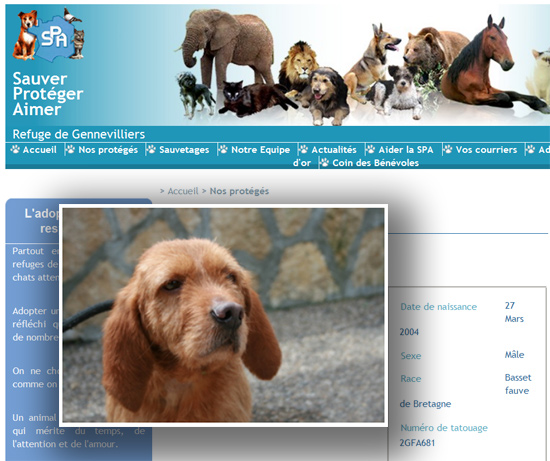 But I hesitated too long and found out today that other people got him. I was going back tomorrow to get him! I'm happy he has people, but I'm totally kicking myself right now. Vincent says the French are notorious for abandoning their pets during the summer vacations (bad, bad Froggies), and that I'll have lots more dogs to choose from in the fall…
This little guy, Basile they called him, was a basset fauve de Bretagne, a French hound breed I'd never heard of. And I am a sucker for a hound, even though I grew up with poodles. The last dog I found online, fell in love with instantly, and subsequently rescued from a shelter was Virgil, a big, red hound dog (below, five years ago).
Obviously I also have a thing for redheaded dogs. My son's a redhead; do you think I'm unconsciously trying to fill my empty nest with red dogs? Hmmm…

Anyway, last Monday I called the shelter to find out what the visiting hours were, and Tuesday morning I was there when the place opened. Was Basile a Virgil Mini Me? Well, in some ways, maybe. He's a scent hound, like Virgil. Coonhounds traditionally hunt everything from raccoons to mountain lions, and bassets fauves hunt hares to wild boar… These are real dawgs.
(Biliana, the woman I spoke to at the shelter who is also a hound lover and has adopted four from the shelter herself, said "So you like difficult dogs?" and I answered "And men," which made her laugh. Of course later, when I told Vincent about the exchange, he said indignantly "I'm not difficult!" which made me laugh.)
I took pics of Basile the day I went to meet him in the shelter. He wasn't a run-up-and-lick-your-face dog, which worked for me in a big Anglo-Saxon way — I'm still not real comfy with the way the French run up and lick your face…
Oh well.
Where is Vincent in all this, you ask? Well, he's conflicted. When we get a dog it'll mean changes, expenses, the stresses of additional responsibility. All the practical things you might expect someone to worry about. He's concerned about the potential for psychological damage in a shelter dog. But he is also a big-hearted guy who is as susceptible to the charm of a little creature in need as you could want him to be. So he is letting me make the dog call. My thinking is a dog is cheaper and easier than a teenager. And who isn't damaged, I'd like to know?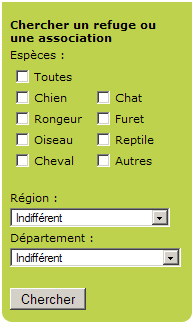 If you've been searching the web for a shelter animal to rescue in France, you've probably noticed an abominable lack of coordination among shelters and agencies, logic-defying website organization, inadequate information, and general incoherence.
(I hate to say it, but quelle surprise…)
However, I did find one site, Seconde chance, from which you can access 367 shelters in France, large and small, private and public.
On the home page, left column, you can enter info about your location and the kind of animal you want (optional), and you'll get a list of shelters meeting your criteria. From there, you have address/contact info and a link to the animals you can adopt from a given shelter. You can also save a search (small dog in Paris) and receive e-mail alerts when new animals matching your search show up.
The shelters here are bursting at the seams. In this day and age it should be clear that buying a pedigreed puppy is unethical and environmentally incorrect. And besides, it's ridiculously expensive. So if you are seriously thinking of getting a dog, get yourself, to quote my French step-daughter, "a used dog." And if you have a coup de foudre, don't hesitate. The little ones go fast.
Bonus: a good article for potential pooch parents by Paris-based dog mom and travel writer, Heather Stimmler-Hall.