I was already a francophile by the time I was eight (that's about when I became aware that I got excited about anything French), but I don't think there's a French bone in my body. The only reason I've been able to come up with for my precocious francophilia is the now obscure animated feature film, Gay Purr-ee (1962). It came on TV only once a year (I was born before cable) and watching it was a family ritual and big event. I was already looking forward to it by the time I was five, so I must have started watching it early in my formative years…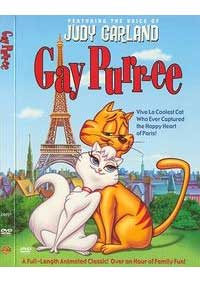 It's the romantic story of a couple of country cats, Jaune Tom and Mewsette. Jaune Tom loves Mewsette, but she hungers for something more exciting than simple country life and ends up in Paris, where she encounters all kinds of dangers and difficulties. Of course Jaune Tom saves her and they end up living happily ever after back in the country.
I was utterly impressionable and defenseless and the movie seduced me on every level. I caught Mewsette's longing for Paris, and a francophile was born. I'm sure it didn't hurt that Mewsette's silken, dainty voice was that of Judy Garland, or that Jaune Tom's was done by smooth-as-molasses Robert Goulet. The music is great, there are plenty of abstract backdrops that are über kitsch, and the Paris scenes look just like all those watercolors that every other American owned in the 50s (when most Americans were francophiles).
Long before VCRs came along, they stopped showing it on TV, so I didn't see Gay Purr-ee again till almost 30 years later, when it was finally released on video. I watched it again and realized why it had disappeared into obscurity. The movie was simply too scandalous to be considered appropriate entertainment for children…
You see, some slick city cat (Meowrice) found Mewsette wandering around Paris and planned to ship her off as a mail-order bride to some cat in America. So he escorted her to the home of a friend, a lady cat who happened to be the madam of a cat brothel (!). This madam cat undertook Mewsette's "finishing" (she needed to smooth those rough bumpkin edges) and Mewsette was pampered in the comfort of the kitty brothel (innocently ignorant) till the time when she would be sent away.
Such a shame Americans are so uptight! I might not be who I am if I'd been born just a few years later… Probably wouldn't have a fleur-de-lys tattoo on my foot (souvenir of New Orleans). Wouldn't have done two and a half degrees in French. Wouldn't be living in Paris. Wouldn't be nearly so fond of Williams-Sonoma. Freaky.
The other day I read a great post by Polly-Vous Français on how Morticia Addams probably singlehandedly created a generation of francophiles. Polly's post inspired this one, in fact. But by the time I was watching The Addams Family, I was already a fully formed francophile. And, of course, my favorite part of the show was when Morticia would speak French and drive Gomez wild with passion…
I'd be very interested to know, dear reader, what made you a francophile.
In the meantime, you can get Gay Purr-ee at Amazon (.com and .fr). Buy it! You won't regret it. And show it to your kids…