How can you treat me like this? I was one of your first!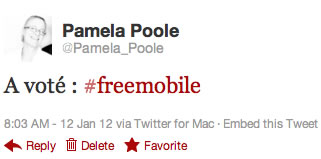 I'm a devoted fan, a certified geekette, a tech blogger… And already a Free client for Internet and TV.
I linked to Meet France's New and Awesome Super Angels in my post Never Mind the Valley: Here's Paris on ReadWriteWeb!
From the day I heard you were applying for the fourth license I was rooting for you. I knew the oligarchs would do whatever they could to keep you out of their club. Then you got the license! And I waited and waited for you to launch your mobile service, knowing that when it happened, I would make the switch, even if it meant buying my way out of my old contract…
I watched your live announcement of the Free Mobile services on TV. The whole thing! I had tears in my eyes when you got to the part about the low rates for poor people.
You guys are awesome!
And I know you're doing your best. But…
I signed up for Free Mobile on January 12th. I got my first receipt that day:
From: freemobile@free-mobile.fr
Date: 12 janvier 2012 07:47:30 HNEC
To: pamela.s.poole@xxxxxx.com
Subject: Accusé réception Forfait Mobile Free
I got my client password on the 15th:
From: freemobile@free-mobile.fr
Date: 15 janvier 2012 00:44:36 HNEC
To: pamela.s.poole@xxxxxx.com
Subject: Confirmation de la création de votre espace abonné
Yeah!!! I was officially a Free Mobile client! So I kept checking my espace abonné, and I was stuck at Etape 1, with a Date de portabilité: Inconnu.
Until the other day, when Inconnu was replaced with Echec de la portabilité.
#ECHEC
And not a single indication from you about what I should do next…
#FAIL
Because your customer service options are so lame limited, I tried tweeting you to ask for help. No answer. So I tried again a couple days later. No answer.
But some other guy (Dude_FR), a kindhearted geek who doesn't work for you (as far as I know), did respond: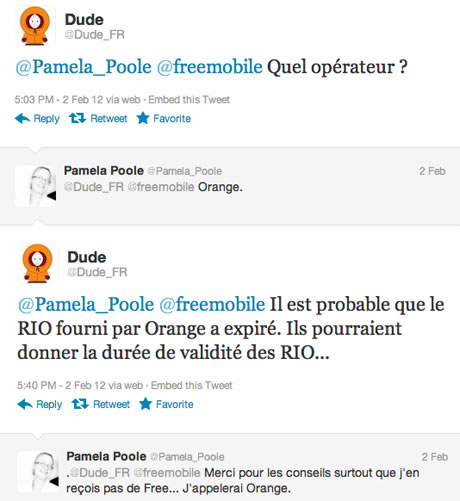 So my question for you, Free Mobile, is this:
What am I supposed to do now?
Even fangirls can fall out of love…
Update:
So I called customer service on February 7th with an actual telephone, and they told me there had been an error; that I'd made a typo entering this number called a RIO needed to transfer a phone number from one operator to another. I said I was quite sure I hadn't made a typo, and that someone (Dude_FR above) had told me that the RIOs issued by my operator had a limited validity period and that that was more likely the problem since it had taken them so long. The agent neither confirmed nor denied, she just sort of grunted.
She said I could wait and that "very soon" I'd be able to enter the correct RIO through the website myself, but she said it would be faster if I cancelled my account and resubscribed. Which needed to be done by mail. Paper, stamps, etc. So I wrote the letter and printed it and it sat on my desk for a couple days and never got mailed.
Then, suddenly, magically, three days later, I had a SIM card from Free in the mailbox. I went to my Espace abonné (client space) to see WTF, and the Echec de la portabilité (failed to port number) was gone. Disappeared! It looks like it hadn't failed after all… So what about this error? Was there no error after all?
So now, February 12th, I am at Etape 2, "Sim card mailed." The next étape is "SIM card activated." Waiting to see how long that will take…