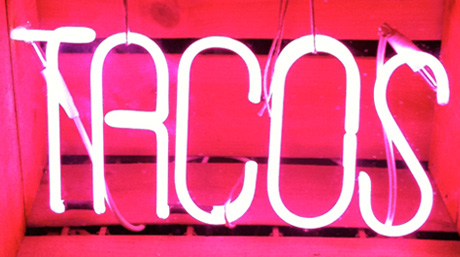 Oh yes indeedy.
Air warm and thick with the smell of fresh corn tortillas. Valentina (and other familiar faces) on the table (as opposed to some little-known Louisiana hot sauce that has no business being there: Mexi & Co.). Tasty refried black beans (as opposed to hard, cold and flavorless kidney beans: La Perla). Fresh shredded chicken (as opposed to deep fried and greasy: O'Mexico). Thick, crispy, homemade tortilla chips (as opposed to thin, stale and industrial: Indiana Café).
Till now, with one exception, the Mexican food I've had in Paris has made me sad. The exception is Anahuacali, where I've eaten twice. It's authentic but way overrated. The food is only fair (bland), portions are small, and everything's overpriced. 50€ for a skinny-ass pitcher of margaritas. Hell with that.
But now there is Candelaria, the latest Mexican restaurant to arrive in Paris, where I had dinner with friends on Friday night. It's more taco stand than restaurant, actually, with one table and a counter providing seating for a total of 15 or so. Best to order takeout if you eat later than 7 pm, which is about when it turns into a zoo.
But it's worth it. If this place were in my neighborhood (it's in the Marais) I'd be eating there once a week at least.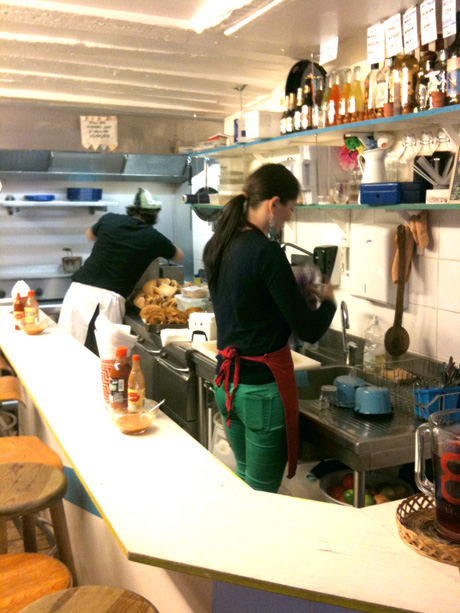 The young, pretty, hipster owners are onto something. The stodgy sit down and eat heavy expensive shit for three hours with a stiff waiter dressed in black thing is not what younger Parisians want. And there were more young French couples and families there than there were expats.
The food is quite authentic. The tacos aren't like the jumbo overstuffed things you get in SoCal restaurants. They're closer to what you'll find in taco stands in Mexico. Or, as my friend said repeatedly, bouncing up and down, "taco truck!" "taco truck!" (She was as excited as I was and for a while couldn't say anything else.) But I think I saw feta on the menu. I'm sure it would be good, though maybe a little odd. (I understand, though. I've used Cantal as a substitute for Monterey Jack for 5 years.)
I had two tacos pollo pibil and two tostadas nopal queso (I do love my prickly pear!). I didn't have the carnitas but my friends said they were good. I had a Dos Equis. My taco truck friend had a Negra Modelo. (That calmed her down.)
Ahhhhh…
Tacos and tostadas are 3.50€ each. A little high considering their size, but not at all too expensive compared to other fast and fresh dining options in Paris (of which there aren't many). And you have to remember that you can't get prickly pears or Mexican chorizo in France…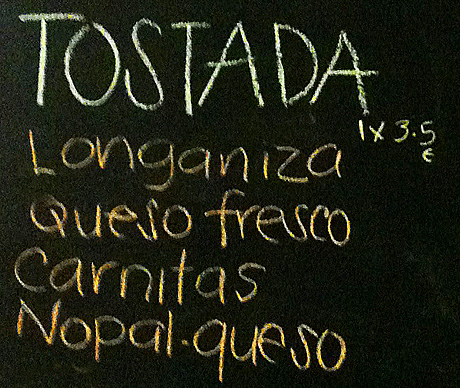 The bad news
A nondescript, narrow white door at the end of the counter leads to a cavey bar that has a completely different feel and clientele than the restaurant. (In fact the tiny, unmarked door looks so much like it leads to the bathroom that you get the feeling they don't want their taco eaters to suspect there's a bar back there…) The bar was full of the usual Paris vampire crowd: 20/30-something hipsters, scrawny girls with long, straight hair dressed in black… I wonder if the vampires even knew that there were tacos on the other side of that door.
We went to the bar for margaritas after dinner (because I had to do the complete taste test). It was good, but seriously, 12€ (about $17) for a margarita? Once is enough for me. Those prices plus the vampire crowd: not my thang.
I just found this list of Mexican restaurants in Paris by David Lebovitz, which he clearly worked very hard on… At least it's pretty current.
I guess I'll have to try them all just to be sure I have actually found the best. If I can ever again force myself to eat Mexican anywhere besides Candelaria, that is.